At Carter Natural Health Center in Hendersonville, we provide chiropractic care for tension headache treatment. Our experienced chiropractor, Dr. Carter, will work with you to find the root cause of your tension headaches and create a customized treatment plan to help you find long-term relief.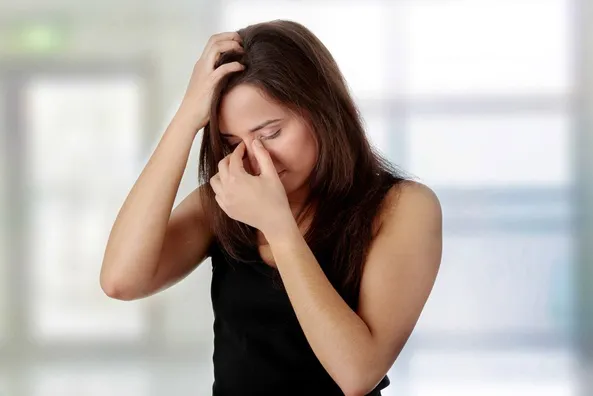 What are Tension Headaches?
When you have a tension headache, you experience pressure, tightness, or constriction at the back of the head, forehead, and the sides. It feels like someone is squeezing your head, and the pain can range from mild to severe. Tension headaches are considered chronic if they occur 15 or more days per month. Episodic headaches are ones that have fewer than 15 days of pain per month.
Causes of Tension Headaches
Many different things can cause tension headaches. We often see them caused by:
Stress
Anxiety
Poor posture
Eyestrain
Muscle tension
Poor sleep habits
Dehydration
Skipping meals
Alcohol and certain medications
While a wide range of factors can contribute to the development of tension headaches, there are a few things you can do to prevent them. These include getting regular exercise, using good posture while sitting and standing, drinking plenty of water, and eating healthy meals. Basically, if you can avoid the triggers that cause tension headaches, you can help prevent them from occurring.
Tension Headache Symptoms
The symptoms of tension headaches can vary from person to person, but the most common ones include:
Tightness or pressure in the head, forehead, or sides
Headache that feels like someone is squeezing your head
Noise and light sensitivity
Fatigue
Difficulty concentrating
Irritability
Sleeping problems
What to Expect During Your Visit
The goal of tension headache treatment is to relieve the pain and help you maintain long-term relief. A combination of different treatment approaches will be used, including chiropractic adjustments to improve spinal alignment, therapeutic massage to release muscle tension and increase blood flow, and lifestyle changes to help you avoid headache triggers.
Visit Carter Natural Health Center in Hendersonville, TN
At Carter Natural Health Center, we believe in the power of chiropractic care to help our patients achieve optimal health and wellness. To learn more about our approach to tension headache treatment or to schedule an appointment with Dr. Carter, call our team today at (615) 826-8480 or reach us through our website by using our online contact form.